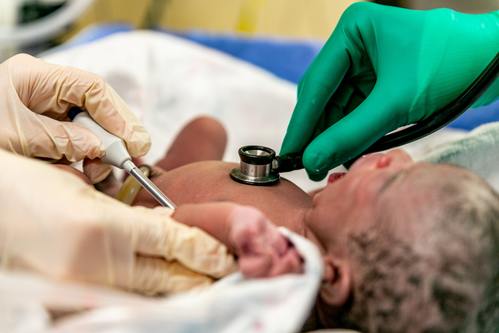 After giving birth myself, I began to read the story of Jesus' birth a little differently. The narrative became more amazing as the Holy Spirit used my own experience to reveal truth about the humanity and divinity of Jesus and the purpose of his coming. I certainly don't have it all figured out! Just like childbirth, there are things you understand by studying, things you will only understand by doing, and things you will never really understand. I had done my homework and had a pretty specific birth plan that included everything from what kind of pain management I wanted to the cute little outfit I would dress baby in for the drive home. I was very fortunate to have most things go according to plan, though I still learned dozens of things for which you cannot really plan!
What shocked me most was the indignity of it all; every previously private part of my body was distorted, displayed and discussed. Movies and television when I was growing up would depict a birth through the lens of the impatient and nervous father in the waiting room. I understand that fathers were not invited into delivery rooms for many years, but I also expect that excluding the drama of childbirth from the screen had something to do with the indignity involved. From the first measure of dilation to learning how to nurse my newborn, I had an audience of advisors and observers (and I am tremendously grateful for most). Despite all the indignity, however, there was also awe and wonder, strength and sanctity as our new baby took her first breath and ate her first meal.
I wonder, did Mary have an experience like mine? Did the women of the village gather around to coach her through the birth itself? Or perhaps a trusted sister or girlfriend who also made the pilgrimage? Did she have a holy visitation in those hours of labor and delivery? Did Joseph stay by her side for this intimate experience even though the baby was not his? Did she really give birth in a barn, or was that just where she had to take her newborn to shelter in the days following delivery? So many details were left out of the story that we are forced to focus on those we do have.
One of the more detailed accounts is in the Gospel of Luke where he immediately follows laying Jesus in a manger with the first visitors, who happen to be some guys working the graveyard shift that Mary's heavenly in-laws round up (see Luke 2:8-16). You read that right, the angels invited some shepherds to be the first witnesses to the birth of Jesus. Babies typically bring lots of visitors in those early days. As a new mom I had to face the indignity of having neglected some of the housework (and personal grooming if I'm honest) as I adjusted to parenthood even as guests dropped by to bring food and gifts. And yet again, the indignity was coupled with joy and wonder as friends and family took such delight in seeing and holding our baby. But why would God have Mary entertain shepherds she had never met in a place that was not her home?
"I bring you good news that will cause great joy for all the people. Today in the town of David a Savior has been born to you; he is the Messiah, the Lord."
Luke 2:10-11
Great joy for
all
the people. That is the word from the angel--God's salvation plan is for everyone. God could emphasize
all
people by telling the shepherds first. These young men with no social standing and no vested interest immediately became the living testimony that Jesus, God with us, came to include everyone. A chorus of angels chime in:
"Glory to God in the highest heaven, and on earth peace to those on whom his favor rests."
Luke 2:14
I can begin to understand more of God's purpose as I study the details included in the story of Jesus' birth each time it is read again this season. I can catch a glimmer more understanding of the mystery of Jesus as fully human and fully divine when I recall the indignity and majesty of my own childbirth experience. And I can still be in awe as I struggle to take hold of the understanding that he came for everyone--even me. The shepherds did nothing to earn their place as witnesses or to become people "on whom his favor rests." The same is true for each of us as we hear the heavenly whisper, "I bring you good news…"