Wednesdays at 6pm | Sundays at 11am
DVYouth Room
DVYouth is all about building community and pursuing Jesus together. Whether you've grown up in church or have never been, we'd love to have you join us on a Wednesday or Sunday.
Summer Schedule is here!!!
We want to welcome our new 6th graders to DVYouth!! Join us on June 8 at 6pm for dessert and fellowship
Register below
We want to help serve our community at the Free Market! Parents are welcome as well. Register to let us know how many are coming to serve!
Transportation is very limited for this event. If you are able to drive your own student, we encourage you to do so.
Either way, register here!
Join us for a fun night of painting together! $10 a person for paint, brushes, and a canvas. food and drink available for purchase, or bring your own!
One last event to close out our summer! Join us for a potluck style BBQ with water games and fellowship!
Tell us what you're bringing:
Unlimited games and hangs for FREE!!! Food and drink will be available for sale at the snack bar.
Register below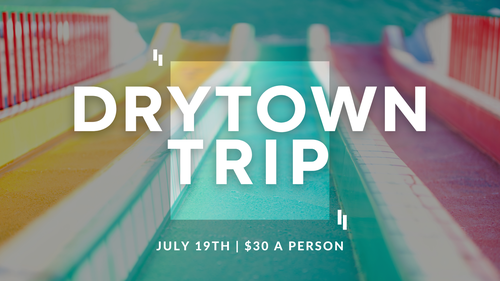 Spend the day at Drytown with us!
More info to come based on pavilion and food services available.
Register Here!
We can't wait to spend the summer with you!!!